Our Bantam Tools Explorer CNC Vacuum Accessory attaches directly to the Bantam Tools Explorer CNC Milling Machine's spindle house, allowing for live vacuuming to increase chip evacuation and decrease clean-up time. It's quick to install into your machine and will manage both chips and fine dust.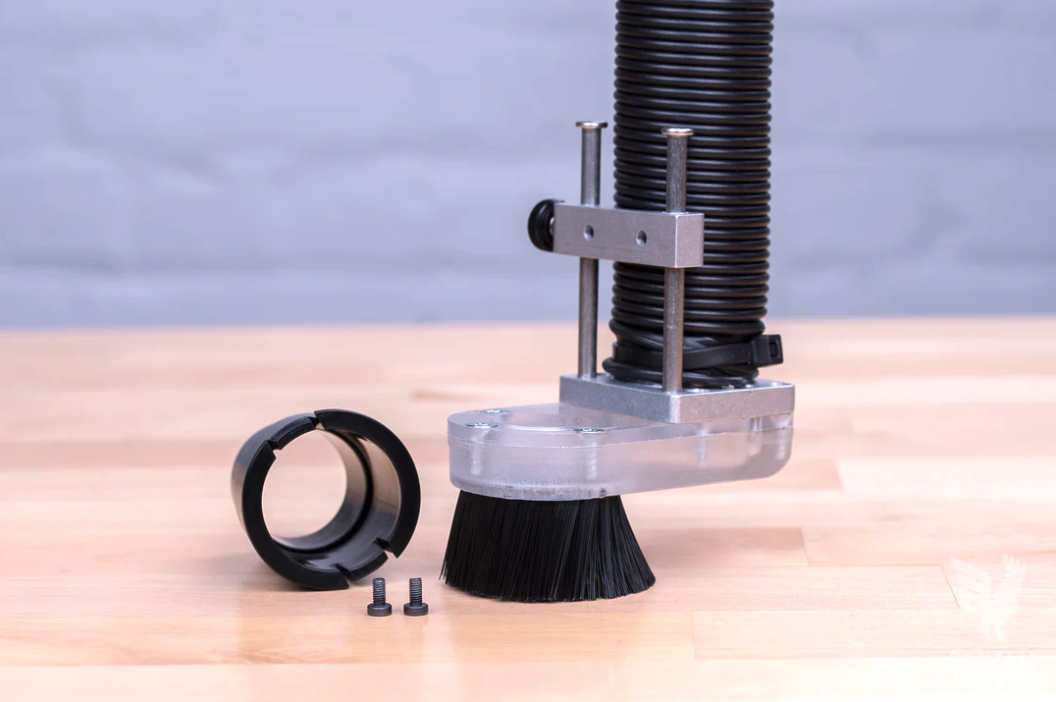 Specifications
Brush length: 1"

Recommended max feature depth: 

Height adjustment: 1"

Vacuum Port Size: 1-¼"

Material: Polycarbonate body, aluminum tube inlet and adjuster bracket, stainless steel adjustment pins and PVC tube outlet
Comes With
Polycarbonate dust shoe assembly

Vacuum hose, 1.25" x 6" (compressed)

Exterior vacuum port, 1.25"

Hex key, 2mm

Low-profile socket head screw, M3 x 6mm (2)
When to Use the Bantam Tools Explorer CNC Vacuum Accessory
The Bantam Tools Explorer CNC Vacuum Accessory minimizes debris (chips and fine dust) generated by milling. Some examples of when to use the accessory include:
CNC woodworking

Milling deep pockets

Running long operations where you can't or don't want to pause your job to vacuum

Roughing operations

Any job that generates fine dust
To Install the Vacuum Accessory:
Jig the spindle to the right side of the machine in order to give you enough room to connect the vacuum accessory to the left side of the spindle via the bottom 2 mounting holes on the bottom of the spindle.
Make sure the location of the mounting plate is raised to its highest position.
Bend the vacuum hose downwards so that it is not in the way.
Use the 2 M3 screws to connect the accessory to the spindle using the 2mm hex key provided.
Once the accessory is connected, you can now connect the vacuum hose to the outside left panel using the included Exterior 1.25" Vacuum Port.
Remove the external red cap that blocks the Explorer Vacuum Port
Fish the black vacuum hose through the internal and external casing and through the vacuum port hole that you exposed when removing the red cap.
Connect the hose to the Vacuum Port using a zip tie, clipping the excess tie length after tightening.
You're Bantam Tools Explorer Vacuum Accessory is now ready to use with an appropriate External Shop Vac.
The Bottom Vacuum portion of the accessory connects and disconnects via the 2 aluminum pins on the mounted fixture and the 4 rare earth magnets. This allows for quick disconnects when you need additional room for tool changes.
You can raise and lower the vacuum port area by tightening and loosening the black knob to the most effective height for removing dust and chips during jobs.
Enjoy using your new Bantam Tools Explorer Vacuum Accessory! And please contact support@bantamtools.com if you have any additional questions.