Material Probing Routine
In the Material Setup tab, there a Z-offset input field. This is helpful if you're using parallels to lift your material off the T-slot bed or using double-sided Nitto to fixture your stock to the machine bed. The material probing routines will take this offset into account and report back an accurate height for your material.
To quickly check the height of your stock, use Z-only Stock Probing routine.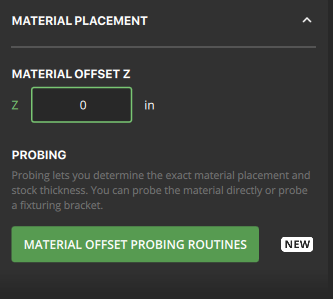 To check your Z height using this probing routine, follow these steps:
I

nstall a 1/4" or 1/8" probe and perform a tool touch-off.

Navigate to the Material Setup tab and enter the size of the material you're using in the Material Type and Size dropdown menu.

Fixture your material to the bed using your fixturing method of choice. If you're using double-sided Nitto tape you will need to enter the offset value (typically 0.006") Material Offset Z input field in the Material Placement dropdown menu.
Click the Material Offset Probing Routines button, and select Z-only Stock Probing in the pop-up menu.

Click next and then use the Jog menu to move the spindle over the front, left corner of your material. Once it's in the correct position, click Start.

When the probing routine is complete your Z thickness will be displayed. Click Accept and continue setting up your job.