Material Probing Routines
Alternatively, you can manually locate your stock. This routine will require a few additional steps, but it's useful if any of the following apply:
You're machining nonconductive stock and your plan requires that the L-bracket not be aligned with the front left corner of the T-slot bed.

You've opted to just fixture your stock using high-strength, double-sided Nitto tape without a bracket as a registration point.
To perform the Manual Stock Location routine, follow these steps:
Navigate to the Material Setup tab and enter the size of the material you're using in the Material Type and Size dropdown menu.

Fixture your material to the bed using your fixturing method of choice.

Next, go to the Material Placement dropdown menu and select the Material Offset Probing Routines button.
Select Manual Stock Location and click Next. A window will pop up that looks like this.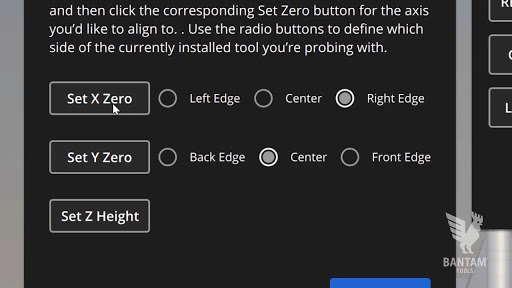 5. Carefully use the jog wheel to move your probe into position. Then specify which side of the tool you're probing with for the particular axis and finally click Set Zero. When you're done, click OK.