Autodesk's Fusion 360 is a cloud-connected CAD/CAM application that's supported on Mac OS and Windows and is free for students, hobbyists, enthusiasts, and startups. It's both a powerful design app for 3D objects and a CAM (computer-aided machining) app that can create 3D toolpaths for the Bantam Tools Milling Machine.
You can download a free trial of the software for professional use or the free version for personal use.
Designing in Fusion 360
If you're new to Fusion 360 or 3D CAD (computer-aided design) in general, you may want to start by checking out these resources.
To download Fusion 360, you'll be asked to sign in or create an Autodesk account. Once you've downloaded and launched Fusion 360, the app will open a new, blank document.
Let's start by taking a look at Fusion 360's layout to help you get more familiar with the software.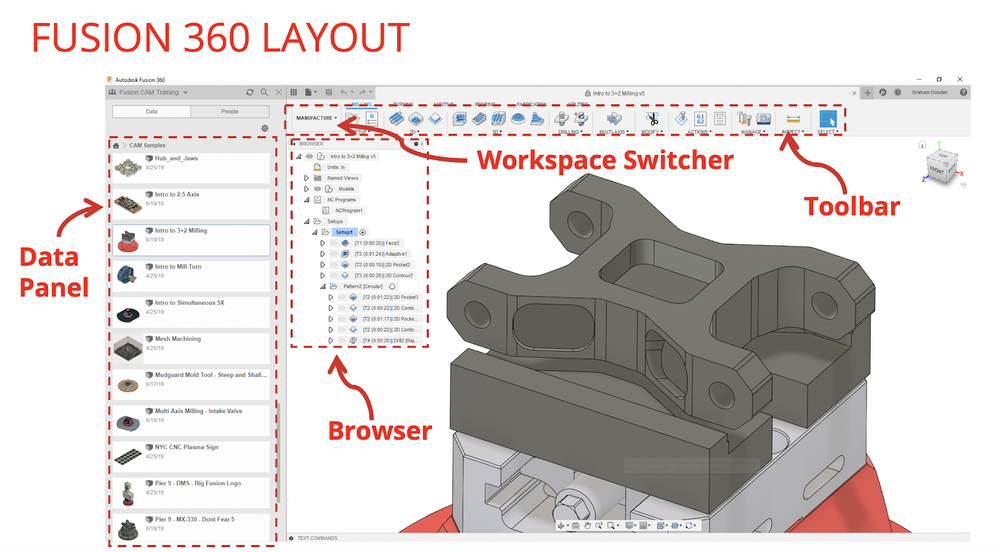 The Data Panel

is where you'll manage your projects and data. To access it, click the grid-looking icon in the top, left corner of your Fusion 360 window. From here, you can create new projects, share them with other users, upload models and other data, and open Autodesk's A360 project collaboration software interface in your web browser.

The

Workspace Switcher

allows you to toggle between all the workspaces Fusion 360 has to offer. Click the Workspace button at the top left corner, and select the workspace you'd like to switch to. This button is labeled with the name of the current workspace (Design, Render, Animation, Manufacture, etc.) and will update once you switch workspaces.

The

Browser

is where all your work for a specific project will be saved. Every time you create a new feature or toolpath, a new entry will be added to your browser. To rename the feature or toolpath in the Browser, double-click on it. To edit, right-click and select edit.

The

Toolbar

––as you'd expect––is where you'll find all the wide variety of design tools you can work with in Fusion 360.
Although there are many different methods for 3D modeling in Fusion 360, there are a few essentials to keep in mind when creating your CAD model, in order to optimize your prototyping process. In the video below, we cover general design considerations, tool comparisons and considerations, and walk you through a CAD demo.
Overview
General Design Considerations (13:25)

Flat End Mills vs. Ball End Mills (14:56)

Tool Considerations in Design (16:54)

Example of Poor Design for Manufacturing (17:38)

Tool Comparison Tool (18:20)

Tool Geometry Considerations (20:58)

CAD Demo (22:14)

Q&A (39:10)
Once you're finished designing your CAD, the next step will be to program your CAM. To learn more about how to program your toolpaths, see our Fusion 360 Workflows: Programming CAM support guide.