Before you can start machining the part you've designed, you'll need to determine what end mills to use. The end mill (also known as the machine tooling, cutter, bit, or tool) is what cuts your material. There are a plethora of different end mills to choose from, and the end mill you choose can be influenced by a number of factors, including the material you're cutting, the machining operation you're running, and size of the features you're milling.
In this guide, we cover:
Common types of end mills you can use with the Bantam Tools Desktop CNC Milling Machine

An overview of specialty end mills

The anatomy of an end mill and why flute count is important

What is a collet and how to select the right one for your tool

Tool geometry considerations
Common Types of End Mills

Flat end mill:

Named for the flat tip of its cutter, these tools are used for roughing operations, cutting 2D shapes, and flat-sided 3D shapes.

Ball end mill:

Named for the rounded tip of its cutter, this type of end mill is used to machine curved surfaces and 3D shapes.

Engraving bit:

These end mills tend to have finer tips and are typically used for engraving operations, such as the Custom Dog Tag project.
Another tool you'll use on a regular basis is a probing pin. This tool doesn't have a cutter. Install this tool when you're using one of the material or plan placement probing routines in the Bantam Tools software.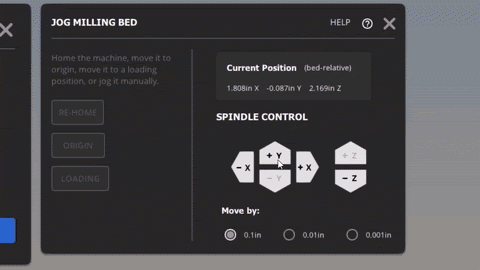 Specialty & Material-Specific End Mills
As you dive deeper into CNC machining and mill more complex features and parts using certain materials, you may need specific types of cutting tools. When you hear "specialty end mills," this typically means that the end mill is used for a very specific purpose.
Some examples of specialty end mills include:
Chamfer cutters, used to machine flat, angled edges

Double-angle shank cutters, used for milling threads

Long-necked end mills, used to machine deep pockets

Under the umbrella of speciality tooling is material-specific tooling. These types of tools are—you guessed it—manufactured to machine specific types of materials. For example, the Harvey Tool, Helical, and Datron end mills we carry in our store for the Bantam Tools Desktop CNC Milling Machine are specifically designed for dry-machining aluminum, the type of operation our machine is optimized for.
Some end mills have different coatings on them—for example, TiN (titanium nitride), TiAlN (titanium aluminum nitride), AlTiN (aluminum titanium nitride), and ZrN (zirconium nitride), to name a few. The coating you choose depends on the material you're cutting, the operation you're running, whether or not you're using coolant, and more.
Additionally, you may come across "upcut" and "downcut" end mills on tooling manufacturer websites. This refers to the direction the chips you're milling will be evacuating while milling.
Upcut end mills

evacuate chips upward.

Downcut end mills

evacuate chips downward.
We typically use upcut end mills with the Bantam Tools Desktop CNC Milling Machine. But in some instances, you may find that a downcut end mill is better suited for the job.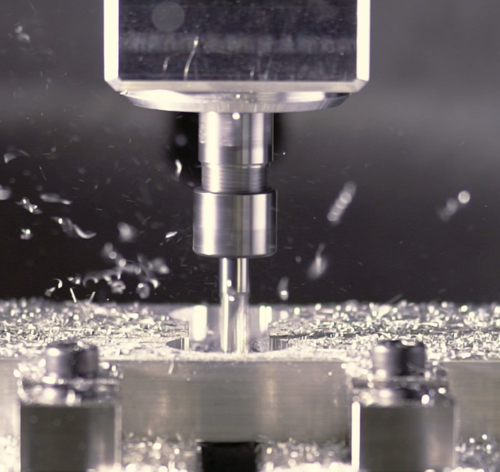 Notice how in all the milling shots you see of the Bantam Tools Desktop CNC Milling Machine the chips spray upward? This is because of your end mill's flute anatomy.
When working with the Bantam Tools Desktop CNC Milling Machine, only use uncoated, upcut end mills. Coated end mills disrupt the conductivity of your tool and, in turn, prevent you from successfully running a tool touch-off when you install a tool. Using downcut end mills will evacuate chips right back onto the part you're machining, which can jeopardize the lifespan of your tool and the quality of your part.
Note: To see examples of the types of recommended tools mentioned, check out the tooling we carry in our store.
End Mill Anatomy
While there are a variety of different end mills out there, they all share a common anatomy:
Shank diameter:

Width of the end mill's shank, which determines the size of the ER-11 collet you need to use

Cutter diameter:

Width of the end mill's cutter

Tool length:

Length of the entire end mill, from the tip of the cutter to the tip of the shank

Cutter length:

Length of just the section of the end mill that does the cutting

Flutes:

Sharp slots that twist upwards along the length of the cutter and cut into the material when the end mill is spinning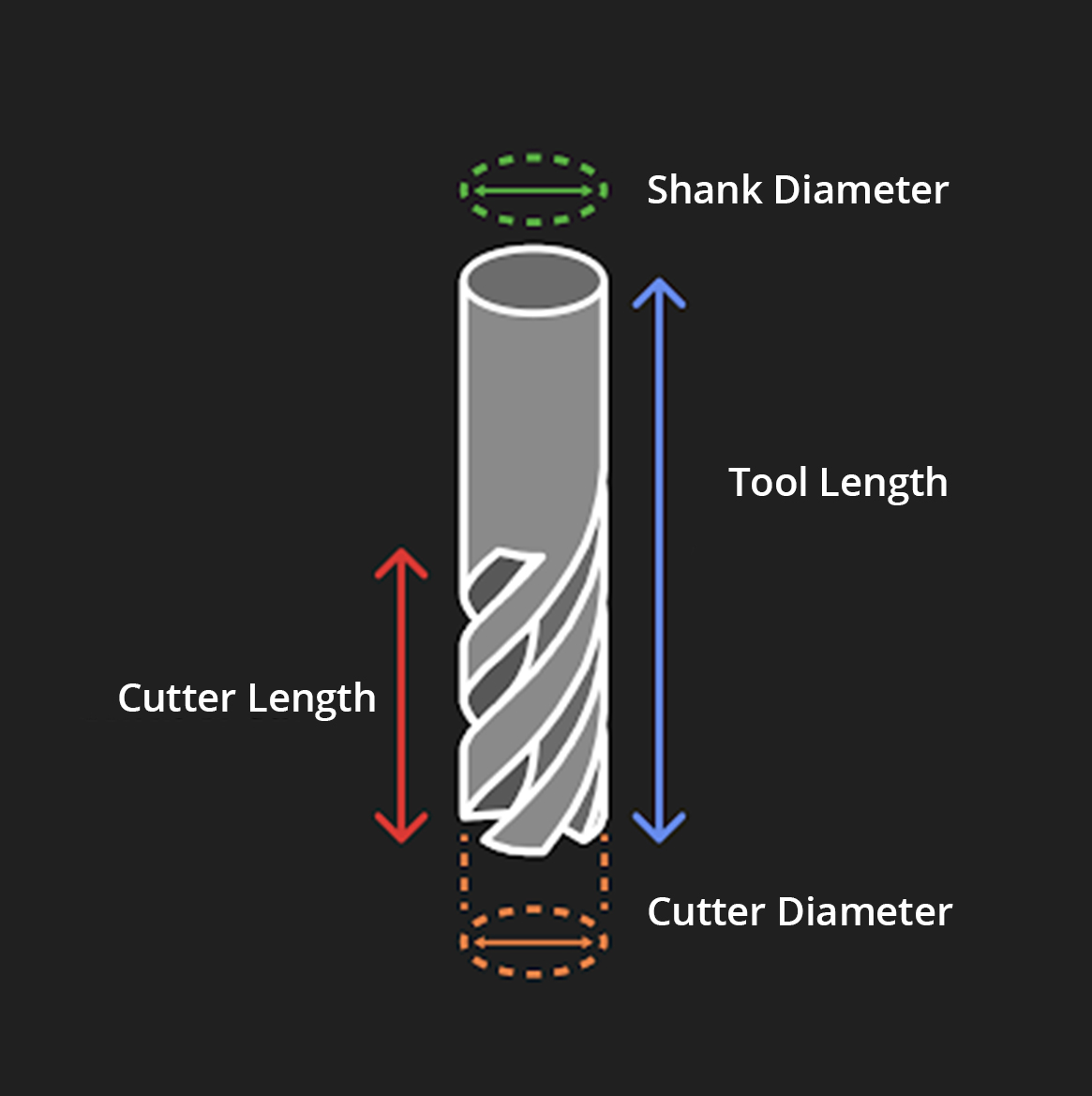 Why is flute count important?
We commonly use single-, 2-, and 3-flute tooling with the Bantam Tools Desktop CNC Milling Machine. The number of flutes a tool has plays a large role in how you create a speeds and feeds recipe. We dive deeper into this in our Speeds & Feeds Key Concepts guide, but for now, the key thing to keep in mind is that the number of flutes you use will greatly depend on the milling operation you're running on your Bantam Tools Desktop CNC Milling Machine.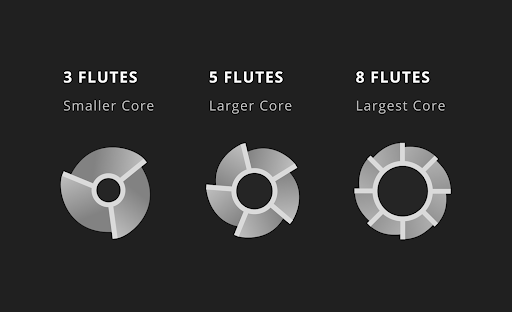 For example:
If you're machining a roughing operation, you'll want to use a single- or 2-flute tool because having less flutes allows for bigger cuts to be taken out of the raw material, resulting in faster chip evacuation.

If you're machining a finishing pass (e.g., a contour), you'll want to use a 2- or 3-flute tool because at any given point during a full rotation of the tool, a flute is digging into the material you're cutting. The end mill is more likely to stay steady and chatter will be reduced.
But what about the 80º metal engraving bit you used in the Dog Tag project? You may be thinking, "That tool didn't have any flutes," and you're completely correct. Two things to keep in mind when working with engraving bits are the depth you choose to engrave and the width of the V-shaped bit you're using. These two factors have the most impact on the aesthetic of your design.
Usually engraving bits have a fine-point diameter and taper out at various angles. The taper angle you use provides a greater resolution in the engraving, but the trade-off is the strength of the tool. Understanding the kind of tooling your design calls for will help you determine an appropriate engraving depth for your design.
Collet Selection
The collet is a sleeve that holds your end mill in place. The shank diameter of the end mill you use also determines the size of the ER-11 collet you need to install into your Bantam Tools Desktop CNC Milling Machine.
For example, if you use a tool with a 1/4" shank diameter, you need a 1/4" ER-11 collet. Or let's say, you're using a tool with a 6 mm shank diameter, then you'll need to use a 6 mm ER-11 collet. To install your collet, press it into the collet nut until you hear a snap. Then you can screw the nut back onto the tool holder on the spindle house, and install your tool.

Note: There are cheap collets available that aren't balanced, which can add unnecessary vibration to the spinning tool and impact the quality of your cuts. To ensure reliability and precision, we recommend the ER-11 collets we carry in our store.
Tool Geometry Considerations
The Bantam Tools Milling Machine Software will alert you when a tool you select for your milling operation is suboptimal for your design. Usually, these warnings are related to the size and/or geometry of the tooling you've selected. If you have features that are crucial to your design and are marked in red, there are two options to solve this issue: select different tooling or adjust your design.

For example, if you've designed an internal corner that is 90º and are using a round end mill, you'll receive a warning to let you know the right angle cannot be milled. In an instance like this, the warning error is occurring because the geometry of the end mill is round and won't be able to cut at a right-angle. This is why it's always important for you and your students to keep in mind the tools you have on hand and the geometry of these tools.